Librarian's Corner
Early December 2022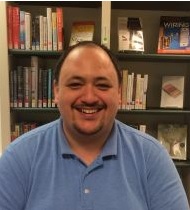 There's this frenetic energy that always comes with the holiday season. Often, it's from people scrambling to find something at the last minute. For others, it's a time of momentous output of baked goods. Then there's those who channel that energy into decoration, the likes of which won't be seen again for another year.
I hope that, in the ensuing frenzy, you can take some time to slow down a bit, and maybe even stop in at the Library. Let us help you find a recipe book to complete that meal you're planning, or help find the perfect holiday movie to get you in the spirit. And, as always, we're here to be a warm and safe place for folks to hang out as temperatures start dipping below desired levels—we've even got hot beverages to help keep you warm.
And don't forget about our Library of Things, here to help during the holiday rush. Need to preserve some food for the winter? We've got canning tools to help. Need to get the wrinkles out of the nice clothes to visit family? We've got a steamer and an iron you can borrow. Need to keep the kids entertained while wrapping presents in the next room? We've got lots of games and activities, from ping-pong and planks to robots. We've even got a portable DVD player. If you want to borrow any of the items in our Library of Things, just ask—we'll be happy to help.
I also hope that, if you can, you'll stop by the giving tree we have set up for Starting Point. There are a lot of folks out there whose holidays season won't be as merry or bright as we might wish. Being able to supply one of the items on the ornaments of the giving tree might make the difference between a happy holiday and a humbug one. And as an added bonus, anyone who takes an ornament can remove the paper attached and keep the beautiful ornament underneath!
---
---