Librarian's Corner
Early April 2023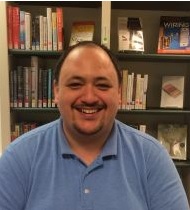 A year ago this month, we had a poetry reading over Zoom to celebrate National Poetry Month, featuring poems found in the Library's collection. Over time, that live reading morphed into a monthly recording of poetry in the public domain—Well-Versed.
While Well-Versed is going strong—with a new episode due out at the beginning of this month—I wanted to highlight again not just the Library's volumes of poetry, but the whole collection of non-fiction volumes. They don't tend to get a lot of attention once they're no longer new; they're tucked back into a corner alley downstairs. But there's a wealth of information contained in those books.
Granted, they're a little harder to browse than the fiction upstairs. Everything's arranged by the Dewey Decimal System, each number representing an area of knowledge. If you wanted to check out American poetry, you'd venture over to 811. (If British is more your style, that's over in 821.) I promise you, I don't have most of the numbers memorized—just a select few!
But down in the non-fiction is where you'll find cookbooks, books on crafting, building, gardening, and more. There's books for language instruction, volumes listing all the books you should read or movies you should see in your lifetime. There's the books about New Hampshire, New England, and even wider regions of the world. Books about history, science, and technology. And just around the corner are the biographies.
Even if you don't know what exactly you're looking for, it can be a lot of fun to just scan the shelves and see what treasures await. If you know what you're looking for, but you're not sure where to find it, we're always glad to assist with that part.
And I would encourage you to browse the poetry this month, in honor of National Poetry Month. If reading it isn't for you, you can always listen to Well-Versed from the Library's website, or you can find it on Spotify. Read to a child you know; many of our picture books are written in verse. Let us help you find your own special way to celebrate this month.
---
---